---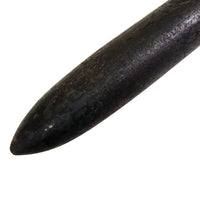 Construction stakes are used to build formworks before pouring concrete, especially slab-on fill. Each stake has a round sloped tip so you can drive the stake into the ground with little effort. Each stake also has nail holes along the length where you can drive in nails to attach boards. You can also mark and paint stakes.
3/4" diameter stake
3/16" nail hole postioned every 1" along the length of the stake
Chiseled point to drive through clay and compacted soil
Made from cold rolled steel for heavy duty strength
These stakes are 36" or three feet long. They can be used in combination with our:
Pick package contents above: 10/pack, 50/pack, or 100/pack. 
For more information
Need a large order?
Please reach out to us by phone or email for volume discounts and shipping.