---
News
Posted by Charles Ackerman on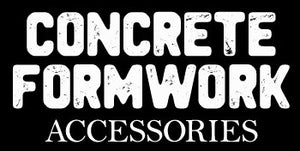 I'd like to introduce you to Concrete Formworks Accessories. Concrete Formworks Accessories provides tools and materials used to build concrete forms and the placing, bending and reinforcing of steel. We provide construction stakes, screed pad posts, screed pads, nail point posts, header form brackets, screed hooks, double screed hooks, wire screed hooks, hickey bars/rebar benders, and the best stake puller available. What makes Concrete Formworks Accessories special? Well one thing is the quality of our products. Our stakes are made with cold rolled steel, which provides superior strength and dimensional characteristics - I'll talk more about this in later blogs....
---
Posted by Mitch Anderson on
Concrete Formwork Accessories is now live on Facebook. You can follow us here: https://www.facebook.com/ConcreteFormworkAccessories/ Would you buy concrete tools or accessories via Facebook? How about through FB messenger?